Mardi Gras Celebration
Saturday, February 10, 2018, 6:30pm -11:00pm
Windows On The River in The Powerhouse
2000 Sycamore Street, Cleveland, OH 44113
Join us for a night of music, merriment, and masquerade that has become the signature event of the year! This event includes a performance by the North Coast Men's Chorus, superb Bourbon Street cuisine, a live and silent auction, and a French Quarter wall with a top prize worth $500! The event will benefit the North Coast Men's Chorus and its Youth Outreach Program. 2018 honorees are the Near West Theatre and The Singing Angels.
This year's event will again feature a 50/50 raffle drawing worth at least 2,000 dollars! You can purchase raffle tickets now, and need not be present to win.
King Rex's Table – $1,500
($1100 tax deductible contribution. Includes recognition in program, table signage, name in all publicity & Auction Sponsor)
Chief Zulu's Table – $1,250
($850 tax deductible contribution. Includes recognition in program, table signage, name in all publicity & Dessert Sponsor)
Twelfth Night Table – $1000
($600 tax deductible contribution. Includes recognition in program, table signage & Mask Wall Sponsor)
King's Court Table – $750
($350 tax deductible contribution. Includes recognition in program & table signage)
Single Tickets – $65

ABOUT OUR CHARITY BENEFICIARIES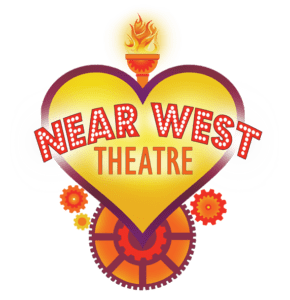 Celebrating our 40th Anniversary Season, Near West Theatre builds loving relationships and engages diverse people in strengthening their sense of identity, passion, and purpose, individually and in community, through transformational theatre arts experiences.
Near West Theatre opened the doors of its new, ADA-compliant performance venue and first-ever permanent home on February 28, 2015, following the successful completion of a $7.3 million capital campaign. NWT is a founding partner of Gordon Square Arts District which was created as an economic development model using the arts as a catalyst to revitalize the Detroit Shoreway neighborhood on the near west side of Cleveland. 
NWT has a unique identity as an intergenerational theatre where people of all ages work side by side, onstage and off. Boasting a five-show season, productions are designed to involve the greatest number of participants which is why the vehicle of musical theater is used. NWT prides itself on providing innovative, socially relevant musicals with casts of 35 to 65 people onstage while maintaining affordable ticket prices so as to encourage audiences from all backgrounds. NWT launched RISE, an afterschool program serving youth ages 9-15, in the summer of 2017, to strengthen theatre arts mastery and social-emotional skills, and culminates in a final performance open to the public. The RISE program is delivered annually in the summer, fall and spring.
The Singing Angels is a choral musical performance program for children (ages 6 – 18) and families from over 10 counties and all walks of life. The Singing Angels mission is to encourage, foster, and cultivate positive development by engaging youth from all communities in quality music and performing arts education that teaches discipline, builds confidence, and provides a strong foundation for life. More than 50 years ago, our late founder Bill Boehm had a dream to bring children from diverse backgrounds to share joy and peace by performing quality music. He posted an audition call for a children's holiday concert at Severance Hall. Eighty children, from all over Northeastern Ohio, responded and The Singing Angels was born. Since the debut concert in 1964, The Singing Angels has entertained audiences throughout Cleveland, Ohio, the United States, and in 38 countries on four continents.
Today, there are more than 190 children, performing with two choruses, the Performing Chorus and the Reserve Chorus, and a training group called the Littlest Angels. Each group is led by trained music professionals who teach a holistic teaching program including singing, dancing, performing skills, and music reading from the American and world songbook. As funding for arts programs are slashed in public schools, The Singing Angels provides core music education programs for children across Greater Cleveland, serving two primary audiences: the students enrolled in our choruses and their families and the people who attend our performances. These music education programs include rigorous preparation for each concert season that includes learning music, music reading, choreography, and performing skills. Known as Cleveland's Goodwill Ambassadors of Peace, our nonprofit organization embodies this motto: Make Music, Make Friends, Make a Difference.