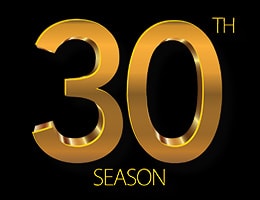 Season 30 Concert Subscriptions
The North Coast Men's Chorus is excited to announce our 30th Season! This year we are proud to present all three of our concert programs at the beautiful theatres of Playhouse Square. We return to what has become the home of our holiday concert – the Hanna Theatre with three performances of "Under the Mistletoe" December 2-3, 2017. Then, to celebrate our 30th in a big way, we will be joined by the legendary Maureen McGovern for a thrilling concert at the State Theatre on March 24, 2018. Finally we close out this anniversary season June 16-17, 2018 back at the Hanna Theatre with a look at our past, present, and future in "It's About Time".
With another landmark season, we are pleased to be able to offer you not only the best seats in these amazing Playhouse Square theatres, but also the best price with a Season 30 Subscription. Your Season Subscription ensures you don't miss a single moment of the magic that is the North Coast Men's Chorus.
Subscription Prices – $51.00–$123.00